General Librarianship
I make it my job to go above and beyond in the community, in one where everyone may not have the tools to succeed. It is my knowledge of these facts that I as a librarian step in and try to hand them these tools for advancement in both educational and personal goals. It is my goal to ensure that not just students but also instructors thrive. I promote this by ensuring that an environment exists where education is a priority. All too often our students and occasionally even our faculty will have poor to no access to the internet and some live in households where computers do not even exist. This makes the institution the core for all their scholarly work.
What the students and faculty can't see is the work I do behind the scene. I am constantly on the lookout for more cohesive ways to display information for them relevant to their course work. Information Literacy classes are good, but they could be improved to better market to the student demographic.
Bringing Information Literacy introductions to the web will allow instructors to seamlessly incorporate them into their own courses. This will allow online students to feel they are just as prepared and valued as on campus students and lastly allow tutorials to be viewed as many times as necessary.
A Library needs to be a part of its community, and in academia that involves branching out to instructors and student organizations that exist on campus. You can try to count the success of a library in door numbers, but the numbers that really count in an academic library are the increases in a student's grade. This happens by actually speaking to a librarian, and utilizing resources available. Studies back this up such as the article "Measuring Association between Library Instruction and Graduation GPA". This article draws positive correlation between a student's GPA and more than one Library workshop attended.
Reference
When working reference my goal is to be not just informative but welcoming. I want students to think they can ask me anything, and see that if I don't know the answer, I know how to get it. I understand that a full time student may also be holding down a full time job, making their time incredibly precious. As a result in every interaction I try to be concise as possible without sacrificing a welcoming atmosphere.
Teaching
It is my belief that Information Literacy classes are essential to a university. It is also my belief that majority of the time when they are encountered by a students they are found to be a colossal waste of time. It is this reason why I tailor each class to individual projects and topics. Through these tailored classes ,with matching handouts, I seek to engage the students in a more meaningful manner, thus making it a point to not only make the process enjoyable but relevant to their academic needs. It is my belief that librarians need to do this more often and not be afraid to stray from the standard teaching methods for "one shot" classes. Just because you are limited on time, shouldn't limit the mind to creative ways to make the most of it.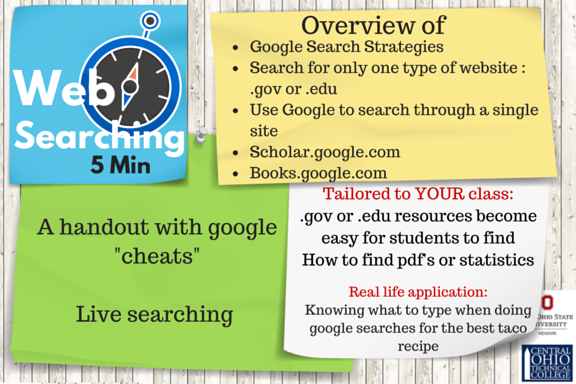 Wong, Shun Han Rebekah, and Dianne Cmor. "Measuring Association between Library Instruction and Graduation GPA." College & Research Libraries 72.5 (2011): 464-73. Web. 15 Dec 2014